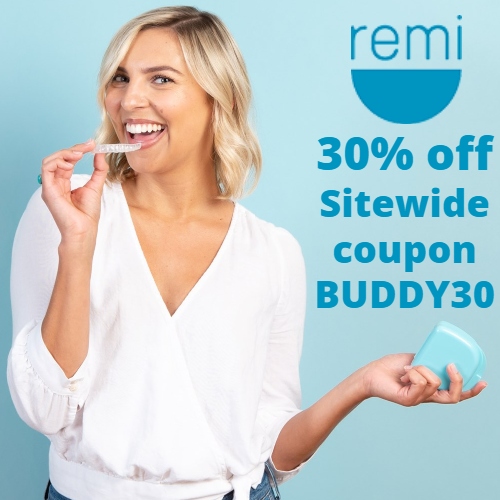 Remi offers high quality custom night guards and teeth whitening kits at up to 80% less than dental offices. Plus, you can create your impressions from the comfort of your home – No dentist appointment needed!
Remi night guards are made of BPA-free, dental-grade, hard-soft 1mm plastic that is specially designed to be protective on the outside and comfortable to wear on the inside. They are known for being some of the thinnest and most comfortable custom night guards on the market! Are you a serious teeth grinder? Upon request, Remi will upgrade you to either 1.3mm or 2mm night guard.
Creating your impression is super easy and takes less than 10 minutes. Simply spread the putty in the tray, bite down for 4-5 minutes, and send the impressions back in the prepaid box provided. Each impression contains two sets of everything in case you need a redo.
For the best deal, consider a Remi Club subscription. You will get your night guard at a discounted rate, and since all night guards gradually wear down, you'll receive a new night guard every 6 months. Regularly replacing your night guard prevents the buildup of bacteria and plaque that could cause cavities and other issues. With a Remi Club subscription there are no commitments and you can cancel anytime.
Remi premium whitening kits come with custom top & bottom trays and a 14-day supply of their safe & effective whitening gel. You'll follow the same simple process for the impressions. If you join the Remi Club you can get your whitening kit at a discounted rate and you'll receive new whitening gel every 3 months.
Get 30% off Sitewide at Remi using coupon BUDDY30. All Remi Club orders ship Free! Both products come with a 30-day money back guarantee.
7