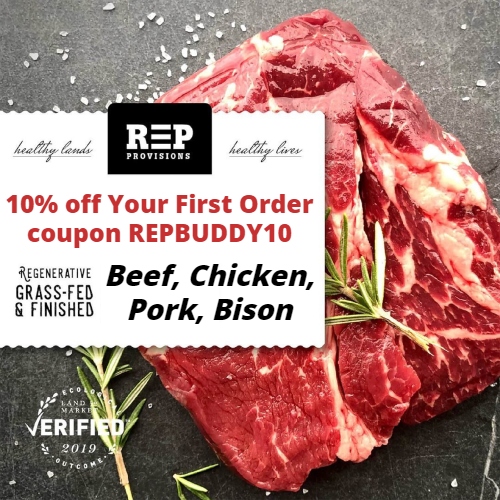 REP Provisions is on a mission to support local regenerative farmers who are building a more resilient & equitable food system.
They work only with verified regenerative farms and ranches to provide you with healthy, clean, and tasty beef & other meats that are better for you and better for our planet.
When farmers use regenerative farming techniques, each year the land becomes measurably more alive & healthier than the last, and healthy land means healthy cows.
REP Provisions complex and perfectly balanced beef is grass-fed & grass-finished with a nutritional value that's unmatched by both feedlot and typical grass-fed beef. In fact, they had it tested by Michigan State University to prove it!
They offer all cuts of beef, from flavorful ground beef to juicy tomahawk ribeye steaks, as well as a large selection of American bison, pasture raised chicken, heritage pork, and bone broths.
You don't want to ruin your healthy meat by putting sugar filled sauces & MSG packed seasonings on it! REP Provisions also offers delicious sauces and seasonings that are completely free of soy, gluten, MSG, refined sugar, and corn syrup.
Get 10% off your first order at REP Provisions using coupon REPBUDDY10. Coupon is valid on one-time orders as well as the first shipment on a subscription order. Shipping is Free on orders of $99 or more.
For extra savings, consider a subscription! You'll get an automatic 10% off every order plus you'll get access to exclusive deals & discounts. There are no commitments. You can change your order, delivery date, or cancel anytime.
Learn more about the importance of regenerative farming.
1