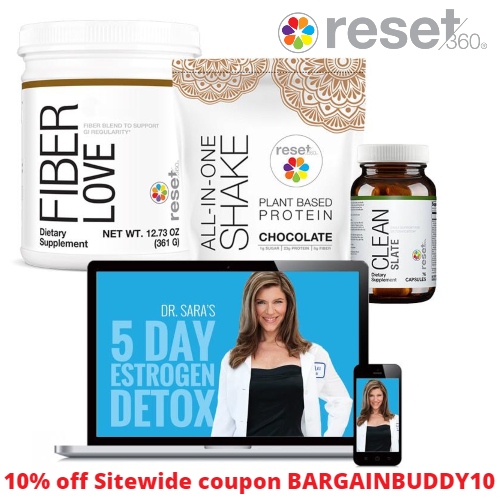 One thing science is clear on, when it comes to our health, what we eat is one of the most important decisions we make. But finding healthy foods that taste good can be difficult! There aren't many foods that check all the boxes: plant-based, gluten-free, not too fatty, no added sugar, etc. Reset360 is on a mission to change that by making healthy eating easy & enjoyable.
Reset360 provides honest, nutrient rich, plant-based protein bars and shakes that taste delicious, unique science-based supplements that fill in the nutritional gaps, and doctor directed online classes that teach you how to build a healthy lifestyle. Unlike other companies, they base everything on the science of health and the art of eating. Every Reset360 product is developed with input from their 100% women led scientific advisory board that includes a wide range of medical practitioners, including a practicing MD, ND, and DC.
Their line of healthy foods includes organic plant-based protein bars that taste great, support healthy weight, are anti-inflammatory, and contain less than 2 grams of sugar. Their All-in-One Shakes are non-dairy, plant-based, are made with multi-nutrient protein powder that is low in sugar, calories & fat and come in a variety of decadent flavors, and delicious dark chocolate bark & truffles that provide a healthy option when you want a sweet treat.
Reset360's line of science based supplements has everything you need to optimize your nutrition, including super greens, sleep support, anti-aging essentials, daily detox support, multi-vitamins, metabolism support, daily fiber for digestion support, omega-3 for immunity, and more.
Their doctor-directed online classes teach you how to build a healthy lifestyle. The courses are created in partnership with Dr. Sara Gottfried, the New York Times Best-Selling Author and leading authority on hormonal balance for women. Their programs include Hormone Reset Detox, Aging Reset, 7-Day Younger Challenge, Fast Track Your Hormone Cure, 7-Day Detox, 5 Day Sugar Detox, 5-Day Estrogen Detox, and 10-Day Keto Intermittent Fasting.
Reset360 now offers top of line organic skincare serums as well! Their serums include:
– Daily C Complex – This serum is a unique combo of antioxidants, flavonoids, polyphenols, and gamma-linoleic acid. It is super-concentrated, so it goes deeper into your cells and helps balance skin tone, repair sun damage, reduce fine lines, and smooth skin texture.
– Daily Hydration Serum – This serum is your secret weapon to replenish, rehydrate, and fight aging skin. Made with a 100% organic, all-natural plant-based alternative to synthetic hyaluronic acid, it gives an instant boost of moisture as you wear it all day or use it for spot treatment overnight. This wonder serum doesn't just moisturize, it also smooths wrinkles while strengthening natural collagen production.
Get 10% off Sitewide at Reset360 using coupon BARGAINBUDDY10. For extra savings check out their bundle deals – They're up to 33% off before coupon! All Reset360 products come with a 60-day happiness guarantee. Coupon is not valid on the Circle Membership.
2