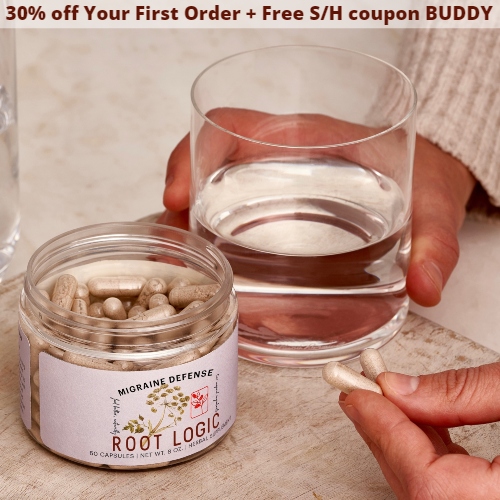 Root Logic offers natural remedies that are rooted in ancient tradition. Their research-backed formulas combine traditional Chinese medicine and modern science to help you reclaim your health by addressing the root of the problem.
The Root Logic line of simple, yet effective supplements includes:
Energy Boost – Designed to address most common causes of fatigue, this supplement uses powerful ingredients like organic cordyceps, bee pollen powder, and bitter orange peel to restore your body's ability to sustain daily energy naturally and target weaknesses so you can maintain a natural balance.
Joint Support – Made with turmeric, a potent anti-inflammatory, this supplement is designed to ease joint pain and stiffness. It is formulated to invigorate the Qi & blood circulation.
Migraine Defense – This supplement reduces inflammation in the body through hormone activation, combats the effects of long term stress & fatigue, and restores a healthy balance and equilibrium. Stress-related blockages in Qi and blood flow can trigger migraine episodes. Migraine Defense restores the balance between cold and damp Yin and hot and dry Yang to prevent migraines and lessen their severity.
Immunity Boost – Traditional Chinese medicine explains a susceptibility to illness as a weakness of defensive Qi (or Wei Qi). Your Qi circulates on the outer level of the body, acting as a shield to protect you from pathogens like bacteria and viruses. Root Logic Immunity repairs your shield and boosts everyday health, helping prevent illness and improve recovery.
Root Logic products are most effective when used for at least 3 months. That's why they're only available with a subscription. Root Logic supplement subscriptions are easy and convenient! You'll always have the supplements you need and you can easily pause or cancel anytime.
Get 30% off your first order at Root Logic using coupon BUDDY. All orders ship Free – No minimum purchase required! All supplements come with a 30-day money back guarantee.
Root Logic uses ingredients grown in the United States, offering superior quality, trust, fair wages, and a stable, transparent supply chain.
2