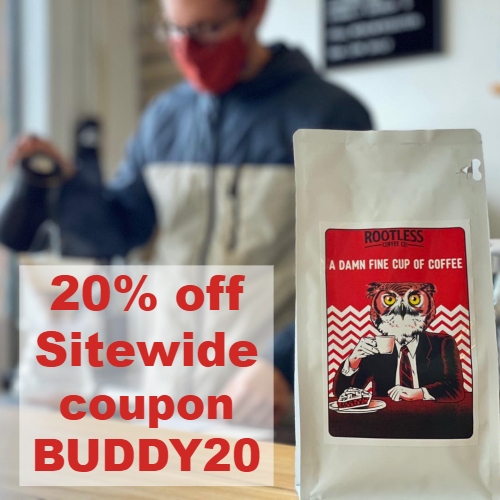 Rootless Coffee was founded in 2020 as a way to blur the lines between specialty coffee and the stuff you make in your pot at home. The Rootless team has worked in the industry for years. When the global pandemic hit, they decided to finally take the leap and start roasting their own great coffee, so people could start making coffee shop quality brews at home.
Rootless Coffee has five great roasts to choose from –
A Damn Fine Cup of Coffee – Their staple roast is a blend of coffee from Brazil and Nicaragua, giving it a smooth chocolate and nutty taste with hints of brown sugar, molasses, and hazelnut.
Berry Kiss – This Ethiopian roast has a great berry flavor with chocolate, toffee, coffee cherry and floral flavors with tart winey acidity and a sugary mouthfeel. The "Kiss" in the name is an understatement because Berry Kiss is a rush of sweet berry goodness with every sip. It's not overpowering and it's not tart, it hits just right.
There's No X in Espresso – This medium Brazil roast will give you the caffeine boost you need and fill your espresso craving with a nutty, dark chocolate, almond, cherry flavor.
Dark – This is the darker take of their staple roast and is exactly what someone who loves a "bold" coffee is looking for. This isn't exactly the third wave taste, but it has a familiar nutty favorite.
Decaf – Their decaf is perfect for an after dinner/dessert cup of coffee. It is sweet and citric with graham cracker flavor.
Not sure which to try? Order the variety pack. It comes with four 4oz sampler bags of Rootless staple roasts.
Fun Fact: Rootless supports local artists by putting their comic and multimedia designs on their coffee bags and Rootless merch.
Get 20% off Sitewide at Rootless Coffee using coupon BUDDY20.
2