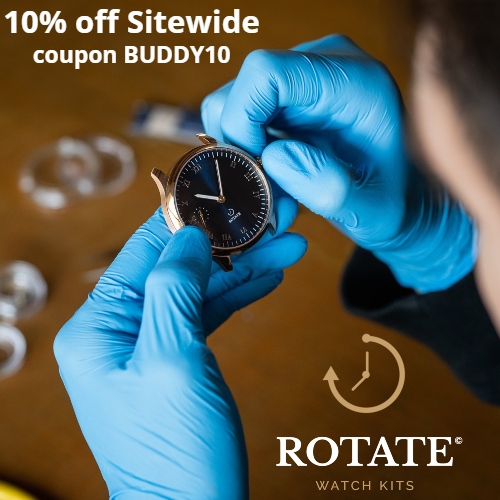 Rotate Watch Kits offers DIY watch kits that allow you to build your own fully mechanical, high-quality watch.
Their all-in-one kits come with all the parts and tools you need, plus a user-friendly guide to help with each step! They are available in several timeless and versatile styles and range from medium to hard in difficulty level.
Don't want to build a whole watch? They also offer a Movement Kit. It comes assembled so you can learn how to disassemble and assemble a mechanical hand-wound movement. Assembly and disassembly are completely different processes and both are important to learn on your watchmaking journey.
A Rotate Watch Kit would make a great Valentine's Day gift for the "do-it-yourselfer" in your life!
Get 10% off Sitewide at Rotate Watch Kits using coupon BUDDY10. Watch kits come with a lifetime warranty.
Rotate® is made by creators for creators. The store officially launched in 2019 through Kickstarter, where they raised over 600% of their goal at $91K. They have been featured in the New York Times, Gadget Flow, Geeky Gadgets, and other publications. Rotate is a woman-owned, minority-owned business based in Los Angeles, California.
7