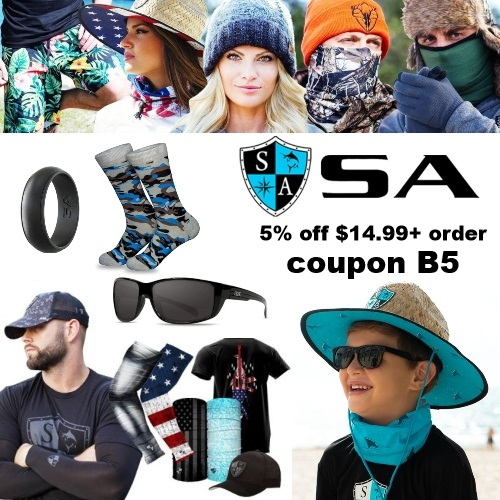 SA Fishing provides quality outdoor gear and apparel for the whole family at affordable prices. With SA Fishing, you no longer have to choose between over-priced gear that breaks the bank or cheap gear that won't survive in the outdoors. By producing their own products and selling directly through their website, they're able to cut out the middleman and provide the best prices possible.
SA Fishing outdoor gear will make sure you're prepared for any outdoor activity, in any weather. They offer cold & warm weather gear, men's board shorts, headwear (trapper hats, beanies, straw hats and more), face shields, DogShields, moisture wicking arm shields, and other outdoor essentials & accessories, like sunglasses, fanny packs, silicone rings, socks, and more.
Get 5% off your order of $14.99 or more at SA Fishing using coupon B5.
4