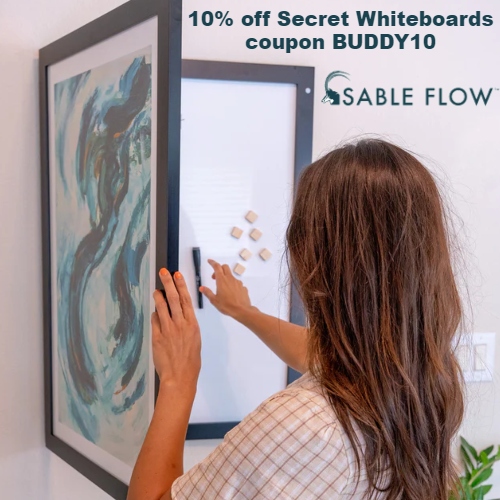 Working from home doesn't mean work has to take over your home! The team behind Sable Flow believes design and productivity can go hand-in-hand. Their mission is to help people working from home create an aesthetic work space they can feel inspired in.
Their flagship product, the Secret Whiteboard, is a stylish hanging print frame that opens to reveal a large magnetic whiteboard. It's designed to help switching between work life and home life a breeze.
Available in 3 sizes and 2 frame colors, every Secret Whiteboard includes an art print and can also be customized by quickly swapping out the included art for your favorite poster or print. A magnetic closure allows you to easily open it while you're working and close it when you're done for the day.
Get 10% off any Secret Whiteboard at Sable Flow using coupon BUDDY10. U.S. orders ship Free and whiteboards are backed by a 30-day satisfaction guarantee.
FUN FACT: Secret Whiteboard was fully funded after being listed for just 36 hours on Kickstarter!
2