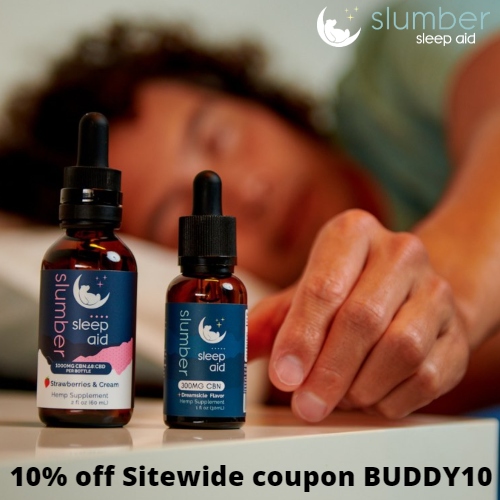 Slumber CBN offers natural hemp derived sleep aids that help you get a good night's sleep without nasty side effects.
Quality sleep is incredibly important for our physical & mental health and our overall well-being. Slumber CBN sleep aids help you maximize relaxation and tranquility at night, for a better day tomorrow.
CBN and CBD come from the same plant and are very similar, each have their own benefits. CBN's biggest known benefit is as a sleep aid. Studies have shown that CBN helps people have a deeper, longer, and less disturbed sleep. As an added bonus, CBN has powerful pain relieving and anti-inflammatory properties as well.
The Slumber product line includes a variety of great tasting nighttime CBN gummies, tinctures & capsules, and daytime CBG gummies for focus & drive, CBD & CBG tinctures, a CBD + CBN topical pain relief stick, and CBN & CBD oil for pets.
Not sure if CBN is right for you? Check out their handy trial kits that allow you to try Slumber Sleep Aids for 3 or 6 days before committing to a full bottle.
Get 10% off Sitewide at Slumber CBN using coupon BUDDY10. Shipping is $4.95 or Free on orders over $75. Coupons are not valid on subscription orders.
Slumber CBN is so confident their products will improve your sleep, they offer a 30-day satisfaction guarantee on all products! Excludes trial kits.
3