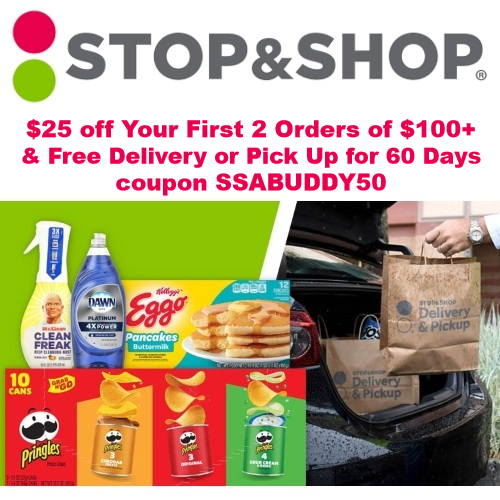 Stop & Shop Coupon
Today: $25 off Your First 2 Orders of $100 or more & Free Delivery or Pick Up for 60 Days
Coupon: SSABUDDY50
Expires: 5/31/23
SHOP NOW
Stop & Shop has been a trusted neighborhood grocer for more than 100 years! They are a full-service supermarket with a huge assortment of groceries that focus on fresh, healthy options at a great value, as well as cleaning supplies, health & beauty products, home & office supplies, baby care, pet care, floral & garden, and more.
Stop & Shop has more than 400 stores throughout Massachusetts, Connecticut, Rhode Island, New York and New Jersey. You can choose how and where you want to shop – whether it's online for delivery or same day curbside pickup.
Stop & Shop has enhanced their digital grocery shopping experience to help keep your family safe and comfortable! Their easy to use app allows you to order your in-store favorites for contactless home delivery or convenient curbside grocery pickup at your local store. You can even browse and download digital coupons and view their weekly ad right in the app.
Get $25 off your first 2 orders of $100 or more and Free Delivery or Pick Up for 60 Days at Stop & Shop using coupon SSABUDDY50.
Be sure to join their rewards program! Stop & Shop's GO Rewards loyalty program delivers personalized offers and allows you to earn points that can be redeemed for gas or groceries every time you shop.
14