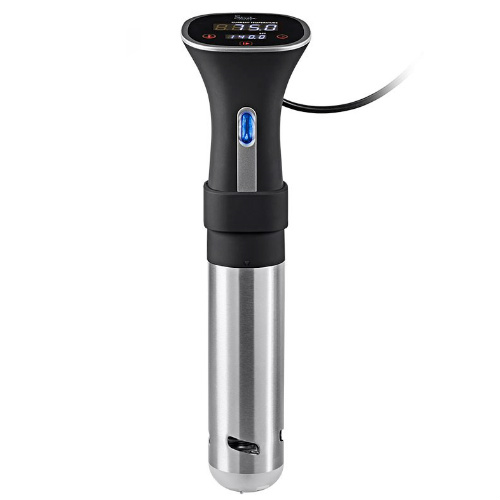 This post contains affiliate links. See my disclosure policy for more details.
Sous Vide cooking is one of the hottest trends in food preparation. Food is sealed into a plastic bag (Zip-loc bags totally work!), which is then placed in a bath of water (I use a large stock pot), which is then heated and circulated by the cooker. The result is food that is juicier and more tender, with all the nutrients – which are often lost from ordinary cooking methods. The LED screen makes it easy to set the cooking temperature and time so you can cook your favorite foods to perfection!
After meats finish cooking in the water bath, toss them on the grill, under the broiler or in a skillet to sear the outside and provide an extra layer of flavor. If you've never heard of Sous Vide cooking, this site has lots of info and recipes. I bought one a couple years ago and I'm a huge fan!
This image perfectly outlines the benefits of Sous Vide cooking. If you appreciate steaks on the rare side, the Sous Vide system allows for cooking them that way all the way through, with no overdone edges.
This item is currently selling for over $125 at Amazon.
7