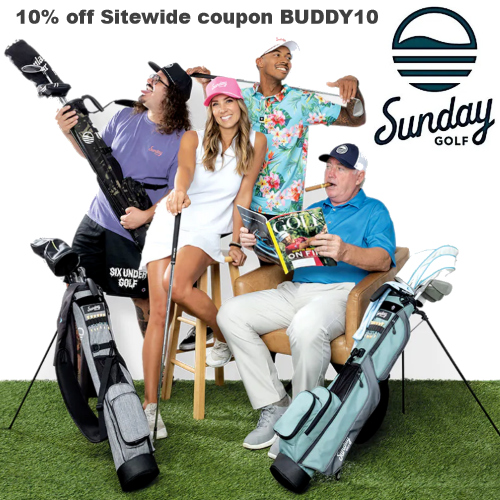 Sunday Golf makes products that help you enjoy your next round. Their high-quality, affordable golf bags feature a Dualflex stand system that allows you to set the bag down anywhere, a velour-lined pocket for you to store your valuables, and a frosty, insulated pocket to keep your drinks cold.

The Loma Bag is an ultra-compact golf bag that can accommodate up to 7 clubs and weighs under 2 pounds. It's perfect for practice sessions, local short courses, and days when only the cart path is available.
The Loma XL Bag is The Loma's bigger brother. At 3.4 pounds, it is a lightweight golf bag that's built to carry 8 clubs comfortably and features a double strap. It's a minimalist golfers dream bag!
The El Camino Bag weighs 3.9 lbs and can carry up to 10 clubs. It is the ultimate lightweight golf bag versatile enough for any style of golf.
Each golf bag is available in many colors and can be personalized with embroidery for just $19, making them a great gift for any golfer!
Sunday Golf also carries golf accessories and gear, like towels, hats, golf bag drink coolers, and more.
Get 10% off Sitewide at Sunday Golf using coupon BUDDY10. All products are backed by a 30-day return policy and a lifetime warranty on defects in materials or workmanship.
6