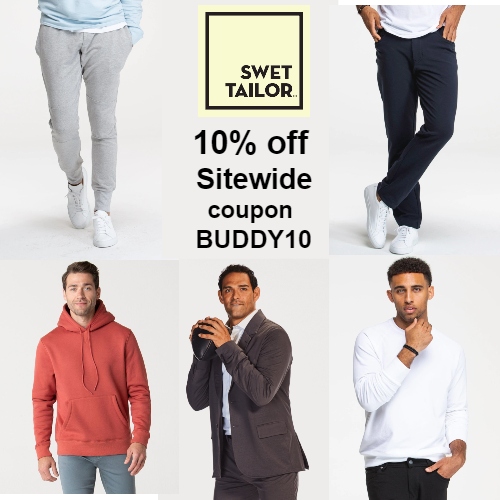 Looking for quality men's attire that's stylish and also super comfortable? Check out Swet Tailor. They make men's clothing with timeless style and unrivaled comfort. It all started with a simple idea: make a pair of pants that looked like jeans but felt as good as sweats and make them to last.
They carry polos, tees, & hoodies, pants, shorts & joggers, as well as blazers and trousers. Whether you're traveling, in business meetings, out on the town or just relaxing, with Swet Tailor you don't have to choose between looking great and being comfortable!
Be sure to check out their All-In Pants that offer perfect tailoring, comfort, style and design so you can wear them anywhere. Their High & Mighty collection is designed for sizes 3XL-5XL.
Get 10% off Sitewide at Swet Tailor using coupon BUDDY10. All clothing comes with a one-year Free return policy! Shipping is Free on orders over $50.
Coupon is not valid on sale items.
5