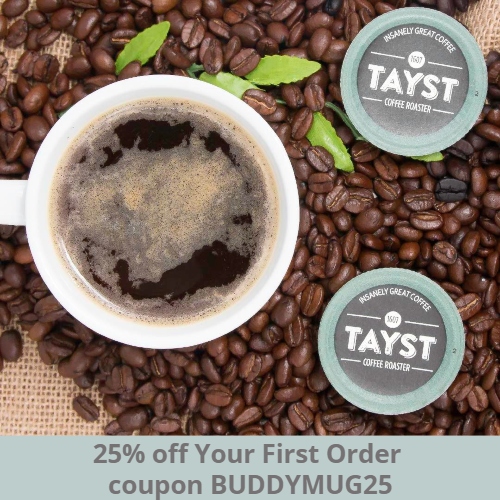 Tayst is a coffee subscription service that offers premium single serve coffee in 100% compostable pods for your Keurig. Tayst selects only the finest beans from some of the most fertile soil on the planet, giving their beans an amazing roasted coffee flavor. And unlike the punch hole most single serve cups use, their mesh filter allows for even water filtration, producing fuller flavors and a smoother mouth feel.
They offer a coffee for every taste with 7 premium coffee blends – two full bodied, dark & robust blends featuring a characteristic essence of an intense roast, medium-bodied blends that are deep and mellow, delivering earthy, smooth flavors, their Vintage Vanilla and Happy Hazelnut that blend premium beans tossed with natural hazelnut and vanilla oils, and finally their delicious decaf, that has been washed of its caffeine but is drowned in flavor.
Tayst coffee subscriptions are easy and convenient. Simply choose how many coffee pods you want and the strength of your brew and your subscription will be delivered to your doorstep every month so you never run out! Their subscriptions are great for home and the office. You can adjust your taste profile, change the quantity, or cancel anytime.
Get 25% off your first subscription order at Tayst using coupon BUDDYMUG25 – OR – Order an $8 Sample Box with 20 cups of coffee, a Free mug, and Free Shipping (coupons are not valid on this promo).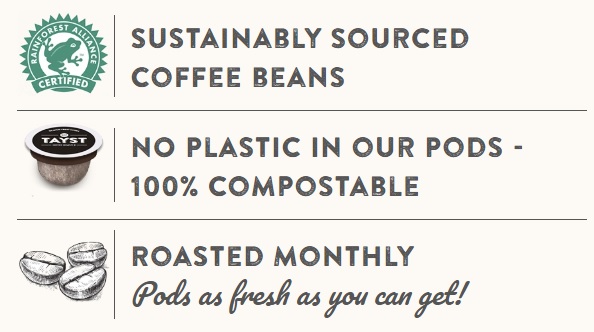 Tayst Coffee cares!
Taste is working to remove 20 million plastic pods by 2021. Each pod you purchase from Tayst helps to reduce the plastic that pollutes our planet. You can even track your eco impact in your account dashboard!
Tayst coffee is sustainably sourced – they are a proud supporter of the Rainforest Alliance. Through The Rainforest Alliance, each cup of Tayst Coffee you drink helps support the farmers and communities where their coffees are grown. The Rainforest Alliance works with coffee farmers to improve their livelihoods and the health and well-being of their communities. Their goals are to protect biodiversity, deliver financial benefits to farmers, and foster a culture of respect for workers and local communities. Rainforest Alliance certification also promotes decent living and working conditions for workers, gender equality and access to education for children in farm communities.
8