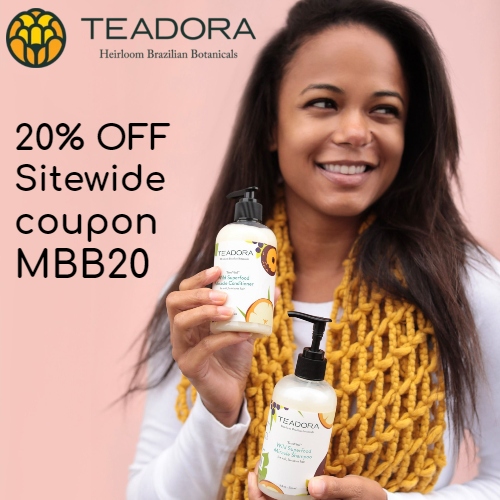 Teadora Beauty provides natural, vegan, high-performance, eco-friendly skin & hair care products powered by the Amazon Rainforest. They combine the best of nature and plant-based science so you never have to sacrifice performance over naturals.
Teadora Beauty was founded by Valeria Cole who was born and raised in Brazil. Her passion for wild plants began under the lush canopy of the Amazon Rainforest. When she was young, her and mom harvested, dried and blended its botanicals to craft nourishing natural remedies. Today, she passes along these ancestral beauty secrets in a raw and organic skin and hair care line that revitalizes you and your skin.
Teadora products are paraben free, 100% vegan, synthetic fragrance free, silicone free, phthalate free, gluten free, free of other harsh chemicals. All ingredients are fair trade sourced, sustainably harvested, carbon reduction focused, recyclable and biodegradable, and always cruelty free.
They offer shampoo & conditioner, hair oil, lip treatment, clay masks, face oils, beauty butter, cleanser, and more. All beauty products are infused with potent Brazilian superfoods & other powerful actives that bring new life to your skin & hair.
Get 20% off Sitewide at Teadora Beauty using coupon MBB20. Coupon will work on sale items, which are already up to 50% off. Shipping is $5 or Free on orders of $24 or more.
Teadora Beauty has a mission to do good in the world, they help youth in the U.S. engage in a meaningful way with the communities they do business in and they have partnered with The Rainforest Foundation to replant trees and preserve acreage in the Amazon Rainforest.
4