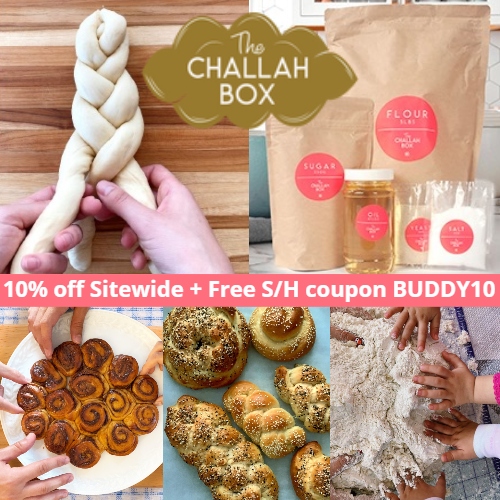 Challah is a delicious, traditional Jewish bread that has been enjoyed for centuries on Shabbat. Nowadays, challah has become so popular because of it's fluffy, unique texture that it can be found in stores worldwide – but buying it at the store can't beat the taste and smell of freshly baked, homemade challah!
Making homemade challah bread can be intimidating, not to mention the time it takes to find the perfect recipe and shop for ingredients! That's where The Challah Box comes in!
The Challah Box is a fun activity with a delicious result. They deliver pre-measured ingredients for a tested and classic recipe straight to your door! All you have to provide is eggs & water. They have perfected the recipe for you, so that you end up with a deliciously light loaf every time – No special trips to the store, no trial & error with endless recipes, and no bad batches.
The Challah Box is more than just delectable bread! In our fast-paced world most people don't take the time to slow down and connect. Founders and best friends, Ilana & Ariel, are on a mission to inspire creativity and connection through the shared experience of baking challah. Baking challah is a great activity to do with friends and family. The challah baking process requires time and presence, giving you a chance to slow down and disconnect in order to reconnect and make cherished memories and new traditions.
Want to get creative? There are endless variations for shapes, toppings, flavors, and fillings for your challah. You can stuff it with anything from Nutella to fruit to garlic confit. And it's extremely versatile – it's perfect as a breakfast or dinner bread, you can slice it for sandwiches & toast, make things like hamburger buns, cinnamon rolls, and garlic knots with it, and it's absolutely delicious when used for French toast.
Each box yields a ton of dough! You can bake it all at once or freeze it to thaw and bake weekly. Traditionally, two loaves are baked every week. If you follow that schedule, it can last all month long!
Challah Boxes are available for one-time purchase or, for extra savings, you can sign up for a monthly subscription or a 3 or 6 month pre-paid plan.Month-to-month subscriptions can be paused or canceled at any time.
Get 10% off Sitewide at The Challah Box using coupon BUDDY10. All boxes ship Free!
The 6-month prepaid plan is just $31.50/month with coupon BUDDY10. That's less than most people spend each month for store bought bread!
The Challah Box gives back! Each ingredient used to make challah carries significance. The 5-pound bag of flour in The Challah Box is particularly symbolic because it is the minimum amount of flour required to separate a small piece of dough and say a blessing. They've decided to represent this tradition by giving 5% of all their profits to charity.
2