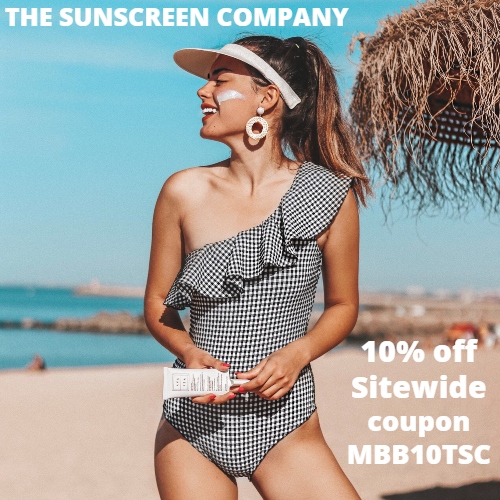 The Sunscreen Company provides luxury sunscreen and skincare products. Their three signature brands, CyberDerm, Ava Isa, and Natrèceutique, address skin care concerns like fine lines, wrinkles, dry skin, pigmentation, and more.
Get 10% off Sitewide at The Sunscreen Company using coupon MBB10TSC. All products come with 2-week money back guarantee. Shipping is a flat rate of $7.50 on all orders.
About The Sunscreen Company brands –
CyberDERM is their original legacy brand. It was developed by two husband-and-wife physicians, a chemist and a daughter to create products they could use within their practice. The company was founded when a patient asked Dr. Denis Dudley, a high risk OB/GYN and endocrinologist, whether a specific sunscreen was safe to use during her pregnancy. Dr. Dudley had never thought about product safety in that way and he consulted his wife, Dr. Sharyn Laughlin, a dermatologist. She had also never scrutinized a sunscreen from that perspective and together they began to delve into the world of formulations of skincare. Their research led them to develop and trial prototypes in partnership with their chemist, Tom Heinar, over the course of 15 years. The results of their efforts were bottled in 2008 when their daughter Sara Dudley joined their team.
Their products feature the best and latest advances in the science of formulations backed by the credibility of medical professionals. All products are created with the premise of being safe, aesthetically elegant and most importantly, effective. For simple needs like cleansing and hydrating, they are curated without feeling minimalistic. Some products have only 4 exceptional ingredients in high concentrations. Other products like their original Sun Whips™ and their anti-aging or depigmenting creams explore how actives can work in synergy with each other to tackle complicated concerns. They are created with intention, and without compromise. The full line aims to support your everyday skincare routine, while not forgetting its original ethos of being safe and effective.
Ava Isa started as a project of love after their co-founder, Sara, had her daughter Ava Isabella. Inspired by a bedtime story, Sara thought if she could write a love letter to the woman her daughter would grow up to be, what would it be? With her family's expertise in sunscreen, she knew she should start by making a product that would make her daughter's life safer and one she would be proud to use. Ava Isa is based on the hope that we can change the startling statistic that skin cancer is the number one cancer killer for young women (specifically ages 25-30). It's designed for women and men of all ages to have the beautiful skin they want, without skimping on the protection they need.
Ava Isa offers their most ultra-matte sunscreens to date. They dry down on the skin almost instantaneously after application and feel light-weight and invisible. They make the skin a beautiful canvas, in either their tinted or un-tinted form. They feature a high concentration of zinc oxide for excellent protection and include a patent pending Bio UVA Ultra technology to increase the UVA protection by up to 60%. The formulas feature a high organic and natural ingredient list with no controversial ingredients – In short, every bottle is full of love and protection.
Natrèceutique was founded on the idea that the medical world and the natural world do not have to conflict, but can find shared ground to make skin beautiful. If a dermatologist were to create a luxury natural line, this is what it would look like. Natrèceutique products are simple. No dash of this, dash of that. For us, that means no fragrances (natural or not). No essential oils. No allergens. They help correct the most common issues, prevent concerns, and nourish the skin as part of a holistic approach.
2