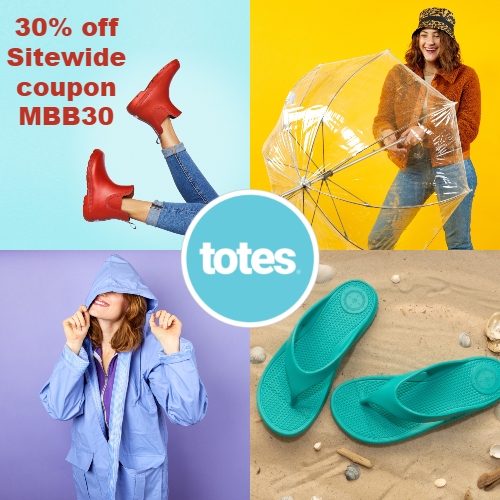 Totes is the world's largest marketer of umbrellas and high-quality rainwear. Born in 1924 in a small Ohio town, Totes was founded on two core principles: Midwest roots and a genuine love for the rain. Totes founders spent decades creating products so others could get outside and enjoy the rain too. When they realized that they don't just love rain, they love being outside, they developed new products like winter boots & coats, and sandals that allow you to pursue the joy of being outside in every kind of weather, all year long. From kid-sized umbrellas to fun novelty slipper socks, with Totes products, you can take on any weather in confidence and style.
Totes offers a wide range of top-quality products for the whole family, from toddler to adult, including umbrellas, rain boots, rain jackets, rain ponchos, winter jackets, winter boots, slipper socks, and more. Some of their best-selling products include –
Umbrellas – The most dependable name in umbrella manufacturing, Totes brings you over 50 years of expertise and innovation. They pioneered the world's first foldable umbrellas, to hold true to their passion – keeping you outside in any weather. Totestop quality umbrellas are super strong, easy to fold & unfold, and will keep you dry in any situation. They have tons of great prints & colors to choose from and come in many styles, including compact umbrellas, stick umbrellas, bubble umbrellas, InBrellas (reverse-closes with the wet side away from you!), oversized umbrellas, kids umbrellas, and golf umbrellas.
Cirrus Rain Boots – In their quest to continue to deliver the best, most needed products to help you weather any storm, Totes introduced Cirrus Rain Boots. These slip-resistant, pull-on rain boots are made with their revolutionary Everywear™ technology, making them 60% lighter than ordinary rain boots and super & comfy. Everywear™ is naturally antimicrobial and the boots can be thrown in the washer for an extra clean when needed. With lifetime durability, comfort that lasts, and many great styles & colors to choose from, you'll want to wear these waterproof rain boots even when it's not raining!
Sol Bounce Sandals – Totes newest innovation, made with Everywear™ technology, these sandals are the bounciest, springiest, softest, most super-comfy sandal ever. The foot bed gently massages your feet with each step, leaving you feeling great. They are antimicrobial, easy to clean, and machine washable.
Get 30% off Sitewide at Totes using coupon MBB30. Be sure to check out their sale section, where items are already up to 53% off BEFORE coupon! Shipping is $6.95 or Free on orders of $35 or more. All umbrellas come with a limited lifetime warranty.
11