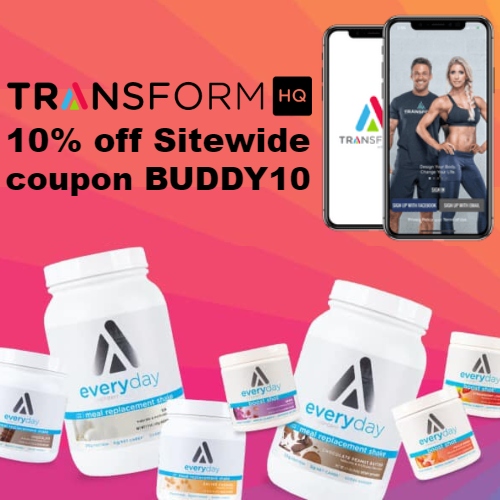 Chris and Heidi Powell have empowered countless people across the globe to transform their bodies and health through their show, ABC's "Extreme Weight Loss". Now they can help you with your own transformation at TransformHQ. You can design your body and change your life with their Transform App and top of the line supplements.
The Transform App makes weight loss simple! You just enter your starting measurements, select your goal weight, and choose your favorite workout style and the app will automatically customize your nutrition plan to the right calories and macros. Everything can be done from the comfort of your home. You get to eat the foods you love and see results with delicious meals, and have access to guided video workouts geared to your fitness level.
Manufactured in the USA, TransformHQ's supplements are designed to help you achieve healthy weight loss and get lean & toned. They offer meal replacement shakes & whey protein, multivitamins & probiotics, pre-workout supplement, BCAAs, creatine, and their popular Everyday Burn and Boost Shots. Everyday Burn accelerates weight loss, boosts energy, and revs up calorie burn. Boost Shots are a healthy alternative to sodas, sports drinks, and energy drinks. They provide instant and sustained energy and increased focus throughout your busy day and are available in 9 flavors.
The entire store is up to 50% off + you can get an extra 10% off Sitewide at TransformHQ using coupon BUDDY10. All supplements come with a 1-year money back guarantee.
For extra savings on supplements, consider a monthly subscription. You get an automatic 30% off every shipment + another 10% off your first shipment with coupon BUDDY10 and Free shipping. Subscriptions can be paused, changed or canceled at any time without penalty with just one click.
9