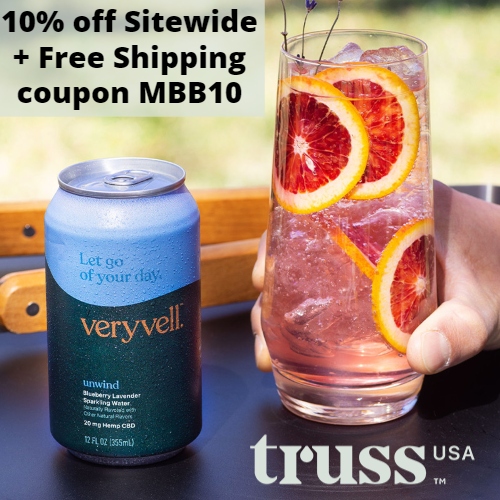 Born in Colorado and backed by Molson Coors Beverage Company and Hexo Corp., TRUSS CBD USA offers high quality, non-alcoholic, hemp-derived CBD beverages.
Their Veryvell naturally flavored sparkling CBD water provides 20mg of hemp CBD + adaptogens to give you a boost in clarity, restore balance, and unwind. They come in 3 varieties: Focus – grapefruit & tarragon flavor, Mind & Body – strawberry hibiscus flavor, and Unwind – blueberry lavender flavor.
Looking for something on the go? Their convenient Beverage Drops can go with you anywhere. Just squeeze two pumps into your favorite beverage to infuse it with the benefits of CBD + guarana, elderberry, and L-theanine. They are available in unflavored versions of Focus, Mind & Body, and Unwind. Each 50ml bottle contains 500 mg of hemp CBD per bottle.
Want the benefits of each one? Both the Sparkling Waters and Beverage Drops are available in variety packs!
Get 10% off Sitewide at TRUSS CBD USA using coupon MBB10. Shipping is Free on all orders – No minimum purchase required.
TRUSS CBD USA is not available in every state. Check the FAQ page to see if it's available in your state.
1