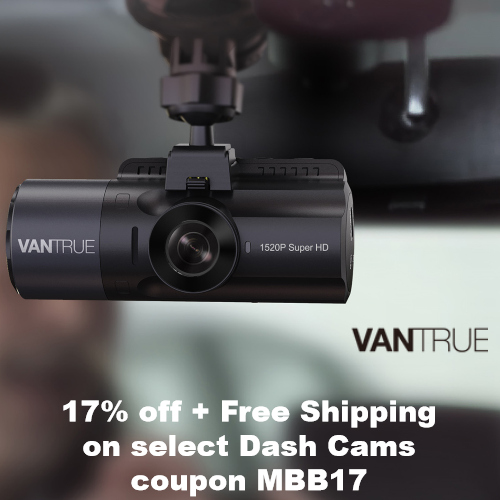 Vantrue offers top-quality dash cams that give you extra protection and peace of mind. There are tons of benefits to installing a Vantrue dash cam in your vehicle –
– They record and save video of accidents to give you irrefutable evidence of what happened.
– They can assist in parking & reversing.
– The motion sensors & collision detection provide extra security by capturing parking accidents, hit & run incidents, and vehicle theft.
– The N4, N2S, and S1 cameras include a built in GPS device that tracks location, direction, speed, and date & time making them great for keeping track of teen drivers. GPS can be added to the N1 Pro & N2 Pro models.
– And as an extra bonus, many insurance companies provide discounts of up to 15% for vehicles equipped with dash cams.
Vantrue's range of premium dash cams come with many great features, including 4K resolution, night vision, large view angles, audio recording, 24-hour parking monitors, and more.
Get 17% off and Free Shipping on select dash cams at Vantrue using coupon MBB17. Coupon is valid on the N4, N2S, S1, N1 Pro, and N2 Pro.
All dash cams come with a 12-month warranty. If you register your product on their website, Vantrue will add an extra 6 months to the warranty for Free!
2