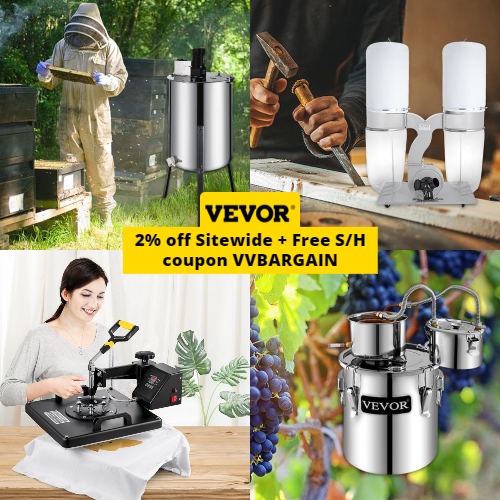 Vevor has been a leading manufacturer and exporter for more than 10 years. They specialize in home, business, and industrial products, including machine parts, automotive tools, lawn & garden products, crafting supplies, restaurant & food service equipment, office supplies, welding equipment, agriculture & forestry equipment, motors, cleaning & janitorial supplies, and more.
Vevor is committed to supplying an incredible assortment of excellent quality products with unbeatable prices. They purchase directly from the same manufacturers and suppliers who provide expensive brands and products, with matched or even exceeded quality levels. By cutting out the middleman, they are able to pass extra savings on to you. Every product goes through extensive tests that far exceed strains of normal use to ensure you are getting the highest quality products available.
Get 2% off Sitewide at Vevor using coupon VVBARGAIN. All orders ship Free – No minimum purchase required. All products come with a 1-year warranty.
3