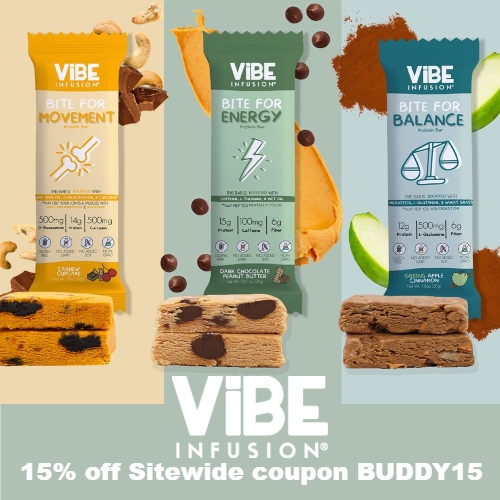 Vibe Infusion's protein bars were created because founders Jared and Alix weren't happy with so called nutrition brands marketing "healthy" food options, but hiding tons of sugar or artificial ingredients in their products – so they decided to do something about it.
They developed protein bars that taste great and are packed with real nutrition, using real ingredients. Vibe bars are vegan, non-GMO, gluten free, dairy free, and soy free. They offer three delicious flavors, each with its own benefits.
The Cashew Cupcake Movement Bar has anti-inflammatory ingredients to keep your joints healthy and it aids in muscle recovery, so it's a great post workout snack.
The Dark Chocolate Peanut Butter Energy Bar is great as a healthy pre-workout snack. It gives you lasting energy and can help with mental focus and memory.
The Greens Apple Cinnamon Balance Bar is packed with antioxidants and probiotics to boost your immune system and help with digestion.
Get 15% off Sitewide at Vibe Infusion using coupon BUDDY15. Coupon works on sale prices that are already marked down up to $30!
3