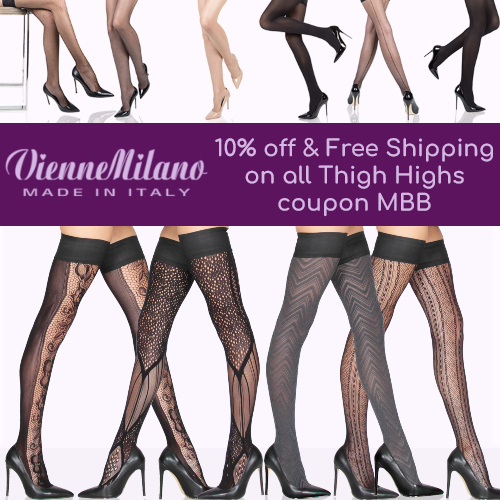 VienneMilano is a luxury hosiery boutique that specializes in thigh high stockings. Their mission is to help women reveal their style and confidence in an elegant, playful and sexy way.
Stockings are a true fashion complement that can define your outfit. VienneMilano believes that by wearing thigh highs, a woman gains a little glamorous secret that provides her personality with an extra boost.
Their luxurious thigh high stockings come in all the classic colors and patterns, as well as more bold designs with vibrant colors and fashion forward patterns. All VienneMilano thigh highs are made in Italy using the finest materials and their stockings are woven from the highest quality threads and fabrics like cashmere, silk, and elastane.
Get 10% off all VienneMilano thigh highs using coupon MBB. All U.S. orders ship Free – No minimum purchase required! International orders ship for $10.
2