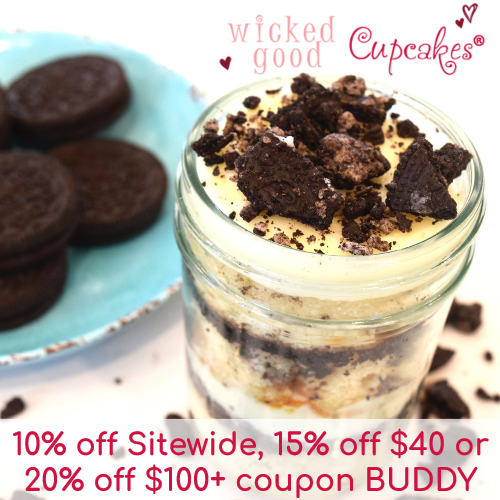 Is there a sweet treat more perfect than cupcakes? You don't need a knife or plates to serve them. Portions are controlled. They have just the right ratio of cake and frosting. They're perfect in every way…until you try transporting them! The frosting ends up all over whatever you packaged them in and you're left with naked cupcakes and a big mess!
Enter Wicked Good Cupcakes. Featured on Shark Tank, Wicked Good Cupcakes makes deliciously indulgent cupcakes and packages them in jars! Each jar is hand packed with the equivalent of 2 CUPCAKES and lasts up to 10 days without refrigeration or can be frozen for up to 6 months.
Seasonal flavors like Caramel Apple Streusel, Chocolate Pumpkin, and Pumpkin Spice capture the holiday spirit and classic favorites like chocolate, vanilla and red velvet never disappoint. Gluten-free options and party packs are available.
Get 10% off any order, 15% off $40 or more, or 20% off $100 or more at Wicked Good Cupcakes using coupon BUDDY. 2-Packs of cupcakes ship for $5 and packs with 4 or more cupcakes ship Free.
Wicked Good Cupcakes has partnered with Pronto to make gift giving even easier! With Pronto, you can send a gift with nothing more than an email address. Your recipient will get to choose what they want, when they want it. This is especially convenient if you need a last minute gift!
5