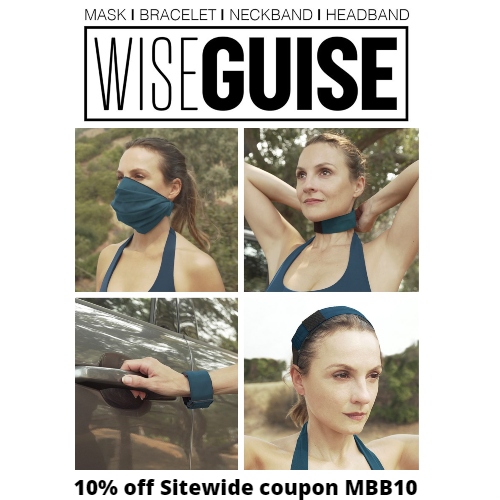 WiseGuise is revolutionizing the way we wear, think about, and store our currently most necessary accessory – the face mask. Masks are a mandatory sidekick these days and let's be honest, they're easy to forget. WiseGuise has you covered with their patent pending design that seamlessly transforms from a mask to a bracelet, neckband, or headband, and back again!
WiseGuise masks are made with breathable, super comfortable, multi-layered fabrics that eliminate ear tension by using a fully adjustable elastic band that secures behind your neck. Another bonus – their protective and snug design reduces eyeglass and sunglass fog.
WiseGuise adult masks come in a variety of colors, are machine washable and reusable. Children's masks are coming soon!
Get 10% off Sitewide at WiseGuise using coupon MBB10. U.S. shipping is Free on all orders.
5