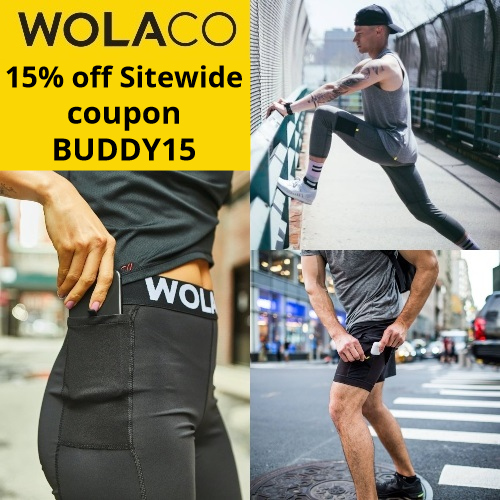 Wolaco creates essential men's and women's fitness apparel for the modern athlete. Wolaco was conceived as a solution deficiencies in fitness apparel – Carrying an iPhone during exercise should be effortless and keeping your valuables safe and dry should be an option. As a group of former collegiate athletes, they teamed up to develop workout clothes that solved these seemingly obvious shortcomings.
Wolaco's compression gear is known to be some of the best on the market! Their products are made of the highest quality materials and rigorously designed for efficiency with every detail in mind. Wolaco apparel is durable, stylish, and designed to give you the support and freedom you need to move however you please. Their patented pockets are constructed with sweat proof technology and sized to fit all mobile devices, so you can keep your valuables safe and dry.
Get 15% off Sitewide at Wolaco using coupon BUDDY15. All orders currently ship Free – No minimum purchase required.
Wolaco stands by their products durability and efficiency with a 2-year guarantee! If they fail to hold up to your active lifestyle due to a production issue, they will replace the item for you or find another solution that you are happy with.
9