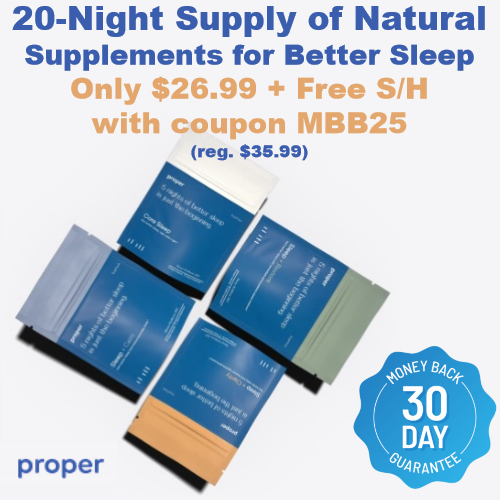 According to the CDC, 1 in 3 Americans don't get enough sleep. If you're one of those people and are just plain tired of being tired, check out Proper.
Proper takes a holistic approach that's developed for improving your long-term sleep health. They combine non-habit forming smart supplements tailored for your unique sleep needs and provide one-on-one sleep coaching to help with behavioral changes that consider your lifestyle and sleep environment.
Proper supplements contain clinically-backed ingredients at effective dosage levels and won't knock you out or leave you groggy. For a limited time, you can try a Discovery Trial Pack that includes 4 PhD-developed natural supplements (for a total of 20 night's worth of supplements) for just $26.99 + Free shipping using coupon MBB25.
After giving the supplements a test drive, you can select your favorite full size bottle in 30 days. If you decide Proper isn't for you, you can easily cancel future shipments. Proper also backs their supplements with a 30-day satisfaction guarantee. If after several weeks of usage you're finding the product is not working, they'll give you a full refund, no questions asked.
10