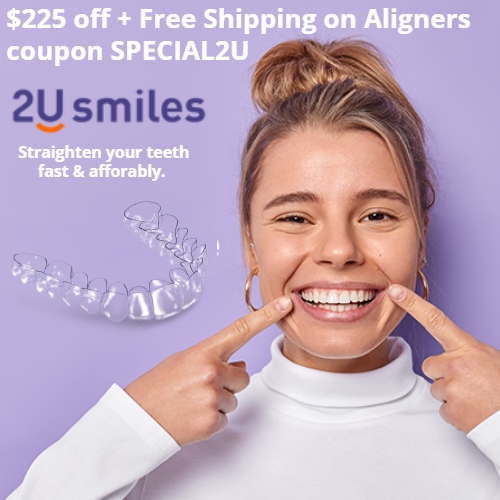 Have you been considering aligners to straighten out your smile, but don't want to hassle with orthodontist appointments? Or you're worried about not having full care if you order aligners online? 2Usmiles offers the best of both worlds!
2Usmiles is 100% committed to delivering great results from the comfort of your home and making sure you feel completely cared for throughout the entire process. 2Usmiles Aligner Bundles include top-notch aligners plus remote monitoring by an orthodontic specialist – The same specialist who designs & prescribes your treatment plan will track your progress with scans from your phone, so you'll have peace of mind the whole time.
Their aligners are affordable and they provide superior comfort & clarity. They are one of the most transparent invisible aligners on the market and their proprietary material and manufacturing processes provide a super smooth surface finish for better comfort and hygiene.
Getting your aligners is a breeze! Just complete the quick & easy impressions and their expert orthodontics team will create a custom plan just for you.
For the fastest transformation (results in 4-8 months) choose the All-Day Aligners that are meant to be worn 22 hours a day. Or, if you don't want to hassle with wearing them during the day, choose the Night Comfort Aligners (results in 10-14 months) that only have to be worn 10 hours a day!
Get $225 off + Free Shipping on aligners at 2Usmiles using coupon SPECIAL2U.
Bonus: All 2Usmiles Aligner Bundles come with a Free set of retainers and 3 Free whitening pens, which can be used with your custom aligners!
Still worried about the results? 2Usmiles offers a 100% guarantee on your results as well as a lifetime guarantee! If for some reason you're not a candidate for their aligners, they will provide a full refund. Post treatment, if your teeth move out of alignment, 2Usmiles will be there to help at no additional cost!
3