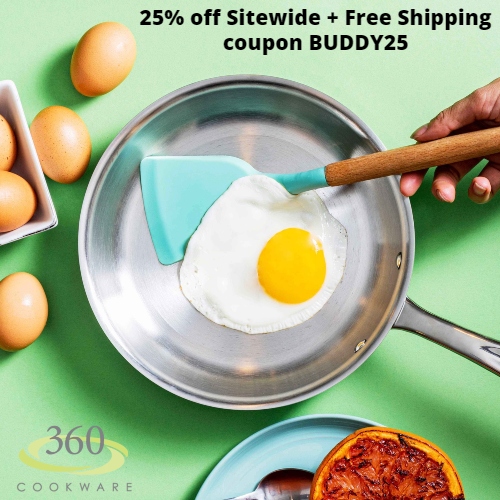 Imagine the possibility of reducing 6,000 calories per month just by changing your cookware! 360 Cookware enables you to cook and eat healthier, tastier meals with their energy efficient cooking system. Their top of the line cookware moves beyond traditional cooking with their awesome Vapor® Technology that allows for healthy vapor cooking, which heats food faster and at lower temps, locks in flavor and nutrients and eliminates the need for added oils or fats.
360 Cookware's Vapor Technology creates fast, even heat that gently surrounds your healthy recipes, from vegetables and meats to grains and baked goods. The lids are specially designed to create a Vapor® Seal that perfectly distributes temperatures and re-directs the natural moisture back into the food. It is made of T-304 surgical grade stainless steel, so your food never comes into contact with non-stick coatings and other potentially hazardous elements that can seep into your food.
360 Cookware offers saucepans, frying pans, sauté pans, stockpots, and slow cookers, which are sold individually and in sets, as well as high quality flatware, and more. They also have a great line of bakeware, which features multi-layer construction that provides even-heating across the entire surface, reduces baking time, and doesn't warp over time.
All 360 Cookware products are proudly handcrafted in the USA in a Green-e certified facility.
Get 25% off Sitewide at 360 Cookware using coupon BUDDY25. U.S. shipping is Free and all products come with a lifetime warranty.
7