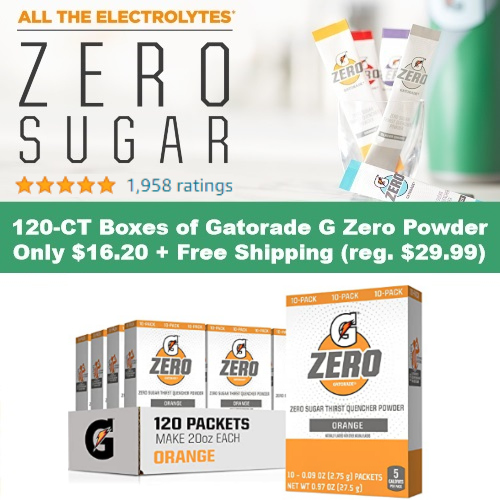 Gatorade G Zero Powder contains no sugar or carbs and have only 5-10 calories per serving. Perfect for on-the-go, each packet provides the same amount of electrolytes as regular Gatorade, with the added convenience of being very portable. Toss a few in your gym bag, purse, car, or desk and you're set! Each stick mixes with 20 ounces of water.
120-CT Boxes of Gatorade G Zero Powder are currently on sale for $17.99 + you can get an extra 10% off sitewide using coupon BUDDY10, making them just $16.20. All orders ship Free! The "best by" date on these boxes is 9/22, so you'll have all summer to finish them off!
These 120-count boxes are currently selling for $36.99 at Amazon where they have a 4.8 out of 5 star rating with over 1,900 reviews.
3