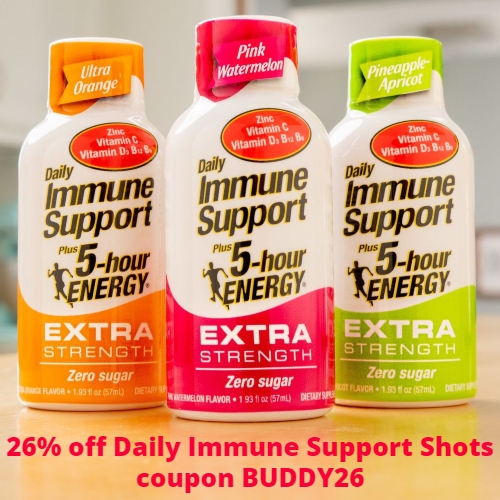 For years, 5 Hour Energy has been a go-to source for fast acting & long lasting energy. But did you know they offer more than just energy? You can also get your daily dose of energy & essential vitamins with their Daily Immune Support 5-hour Energy Shots.
Daily Immune Support 5-hour Energy Shots have the same signature blend of vitamins and caffeine found in their Extra Strength Shots, but with added nutrients to give you the vitamins & minerals you need to stay healthy.
They come in convenient shot-sized bottles and require no refrigeration, making them the perfect vitamin packed on-the-go pick me up. Just throw them in your purse or gym bag, keep them in your car, or in your desk at the office.
They come in 3 great tasting sugar-free flavors – Pink Watermelon, Pineapple Apricot, and Ultra Orange.
Get 26% off Daily Immune Support Shots at 5 Hour Energy using coupon BUDDY26. Orders containing only Energy Shots with 10 or more bottles ship for just $5.
For extra savings, consider a subscription. You'll get an automatic 10% off every order on top of the 26% coupon discount on your first shipment. There are no commitments and you can cancel anytime.
3