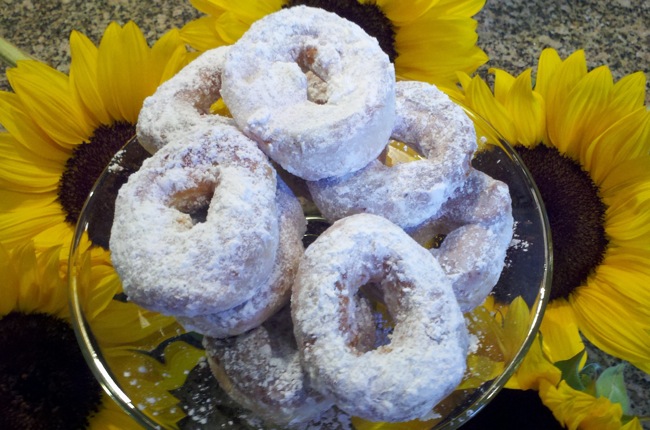 I learned how to make these donuts in 8th grade Home EC class. One of the perks of growing up in the 80's! These days, the food police would probably arrest a teacher for having her class prepare such a nutritionally unsound concoction.
Ingredients
1 roll of refrigerated biscuit dough (Store brand works great. Do not use Grands or flavored varieties.)
1/3 cup of powdered sugar (you can also use plain sugar or cinnamon/sugar.
Vegetable Oil
Directions
Pour powdered sugar into a brown lunch bag and set aside.
Heat about half a cup of vegetable oil in small frying pan. Oil level needs to be high enough to cover bottom half of donut, so the amount will depend on the size of the pan.
Using your thumbs, poke a hole in the center of the biscuits and using your fingers, pinch the sides together to form a donut shape. Fry in hot oil over medium heat, flipping so both sides turn golden brown. Be careful not to have heat too high, as outside will be dark and inside will still be doughy. Cook no more than 2 at a time.
When donuts are done, set on a paper towel for a minute to remove excess oil. Place donuts, one at a time, in the bag filled with powdered sugar and shake until well coated. Serve immediately because they taste best warm when they're warm.
Sign up for my email newsletter to get recipes like this delivered to your inbox!
3