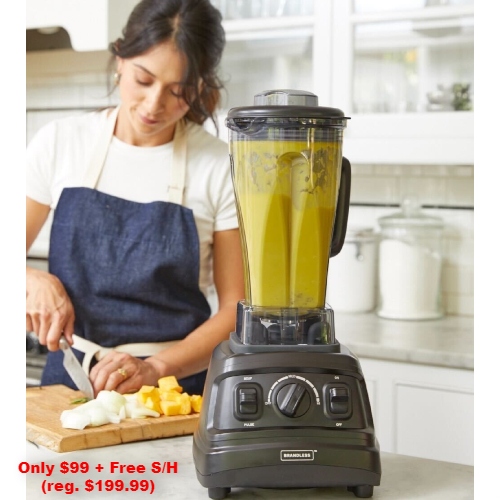 The Pro-Blender by Brandless offers a premium quality blending experience for a fraction of what you'd pay for a Vitamix. Mix, chop, blend, or puree to make smoothies, sauces, soups, dips, nut butters, and more. The unique blade design provides smoother results and a superior blend every time.
Smoothies and blended coffee drinks can run $6 or more for just one serving. You can make them at home for a lot less!
Blender features include –
✓ 6 Stainless Blades
✓ Custom-Engineered Vortex for a Perfect Blend
✓ 1500 Powerful Watts & 2 HP
✓ Big 64 OZ Pitcher
✓ Dishwasher-Safe (excluding base)
✓ Durable BPA-Free, Shatter-Proof Carafe
✓ Multiple-Safety Features (Family-Friendly)
✓ 9 Settings for All Your Ingredients
✓ Guaranteed 3 Year Promise
Right now, you can snag a Pro-Blender by Brandless for just $99 + Free shipping using coupon PROBLENDING99. This is their lowest price ever!
1