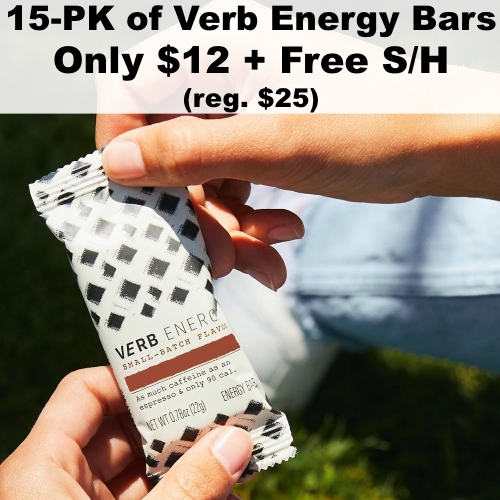 Instead of reaching for a second cup of coffee, grab a Verb Bar. Whether you need energy to get through an afternoon workout or a long day with the kids, a Verb Bar will help you power through without jitters.
Verb Energy Bars are made with organic green tea to provide long-lasting energy without the coffee shakes. Delicious and healthy, they use gluten-free, vegan ingredients that you could find in your kitchen and each bar is only 90 calories. A Verb Energy Bar contains 65mg of caffeine – about the same as a cup of espresso.
Give them a try by ordering this Starter Kit. It comes with 12 bars in the flavor of your choice and 3 samples of their other delicious flavors. You'll get 15 energy bars for just $12 + Free shipping using coupon PJAM12SK (reg. $25).
3 weeks after your Starter Kit is delivered, they'll text you about your next shipment. Simply reply to that text to change flavors, skip, or cancel.
10