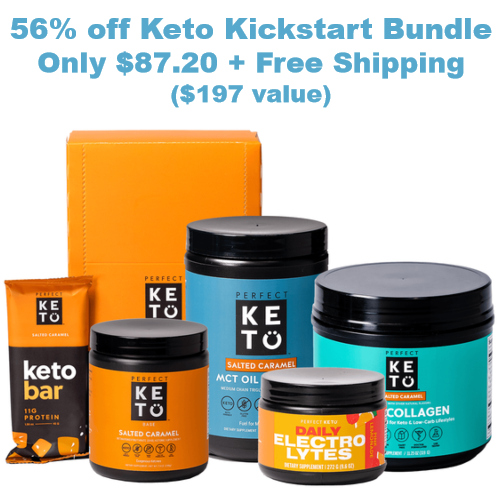 This Perfect Keto Kickstart Bundle has everything you need to start your keto journey – Exogenous Ketone Base, Keto Collagen, MCT Oil Powder, 12 Keto Bars, and Electrolytes.
A $197 value and on sale for $108.99, you can get another 20% off using coupon SLEEPFIRST (valid for 20% off sitewide). This is the first time I've ever seen coupons being allowed on their bundles – If you've been wanting to get on board with a keto diet, now's the time! Other bundles are available. All orders over $45 ship Free.
While you're there, be sure to check out their food, snacks, and supplements. Perfect Keto products contain no gluten, grains, soy, corn, added sugar, artificial flavors/colors, fillers or chemicals.
Perfect Keto backs everything they sell with a 30-day satisfaction guarantee. They'll give you a full refund if you don't love what you buy. No questions asked.
1