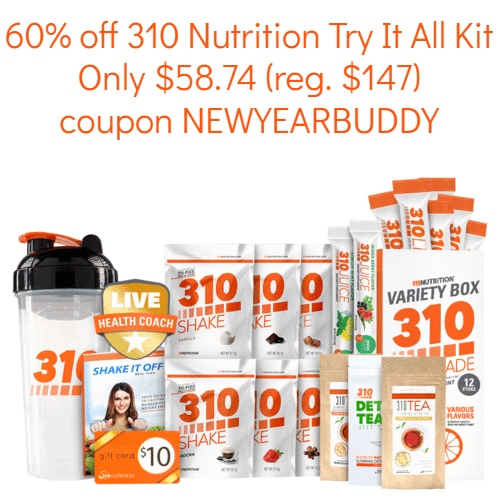 The Try It All Kit is the best way to start your 310 journey! Try a variety of their shake, lemonade, tea and juice flavors with this kit so you can find your favorites before committing. Currently on sale for $69, you can get an extra 25% off this kit using coupon NEWYEARBUDDY. You'll also get a Free serving of pineapple mango lemonade with any order.
This kit includes:
6 Shakes – Well-balanced, full meal replacements packed with nutritious plant proteins, fiber, vitamins, minerals, probiotics, superfoods and more at just 90 calories.
12 Lemonades – Contains alkalizing minerals and GreenSelect Phytosomes that help give you natural energy to burn more calories. No artificial sugar and only 10 calories.
9 Detox Teas – Gently cleanse your body of built up toxins stored in fat with natural herbal ingredients known to aid in healthy metabolism, streamline digestion and reduce bloat.
2 Juices – Contains 70+ health-boosting superfoods, enzymes, probiotics and more to help your body function optimally. No sugar, no blender cleanup, and only 10 calories per serving.
1 Clear Shaker Cup – Easily mix up your healthy 310 beverages on-the-go.
$10 Gift Card to use on a future order.
310 Nutrition believes total wellness is all-encompassing. It's not just about trying to lower the number on your scale, but about reaching full and complete health in mind, body and spirit.
9