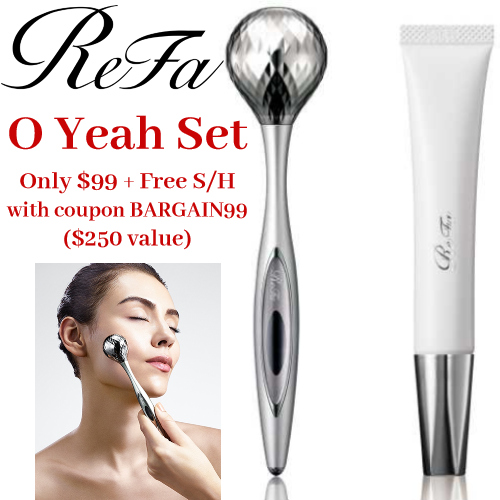 Has the past year taken a toll on your skin? Chronic stress can lead to premature wrinkles. Skin care routines can easily fall by the wayside when there are more pressing things to deal with, like a global pandemic, business interruptions, kids doing school at home, etc. InStyle has a great article on pandemic aging here.
If your face could use a little pick-me-up, check out this O Yeah Set by ReFa. It freshens up the most delicate parts of your face and includes their micro-sculpting O STYLE roller and their rejuvenating Expression Eye Veil Cream. Sold separately, these items retail for $250, but right now the set is on sale for $190 AND you can get another $91 off using coupon BARGAIN99, making it just $99. U.S. shipping is Free.
About this set –
The ReFa O STYLE Roller is platinum-coated and designed to replicate the pinpoint pressure of an esthetician's fingertips. This 840-facet, lotus-cut roller helps visibly sculpt, de-puff and rejuvenate your eyes, jawline, and décolletage. A solar panel embedded in the handle converts available light into a mild, soothing microcurrent. It feels very nice in your hand, too, with a good weight to it.
ReFa Expression Eye Veil Cream is a deeply penetrating and hydrating eye cream that helps instantly and visibly diminish dark circles, fine lines, and puffiness around your eyes, while helping optimize the performance and benefits of the ReFa facial roller. It goes on soft and doesn't leave a sticky residue.
If you see something else on their site that you'd like to try, you can get 25% off Sitewide using coupon BARGAIN25.
4