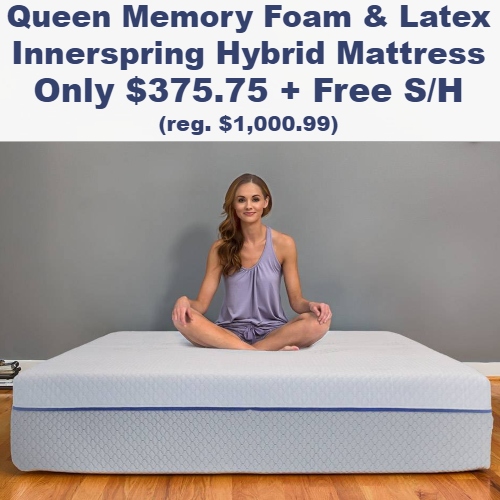 This Queen Memory Foam & Latex Innerspring Hybrid Mattress is made in the USA and specifically tailored for your comfort. The Gel Infused Memory Foam top adjusts to the shape of your body to relieve pressure points and properly align your spine while the BiOH Gel Latex layer allows your mattress to breathe so you stay cool and comfortable all night long. Individually encased Micro Coils provide pinpointed relief to natural pressure points and aid fatigued muscles throughout the night.
Comes with a 10-Year Warranty and a 120-night risk-free trial, which lets you return the mattress and get a full refund if you aren't completely satisfied.
Marked down to $500.99, you can get an extra 25% off Sitewide using coupon BARGAINSAVE25. Shipping is Free on all orders.
Once word gets out, this mattress will probably sell out quickly. Order yours now if you want one!

1