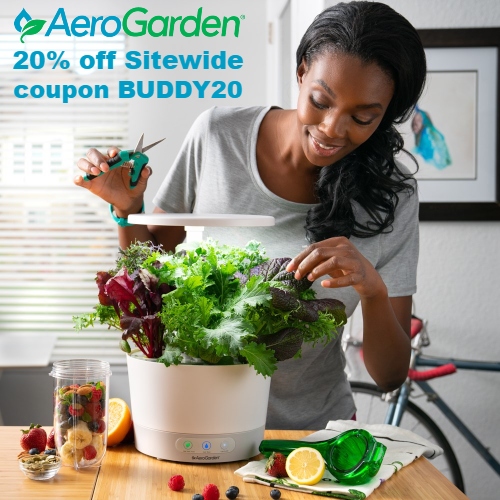 AeroGarden is the world's first fool-proof, dirt-free indoor garden that allows you to grow fresh herbs, veggies, salad greens, flowers, and anything else you want, year-round! AeroGarden makes gardening super easy and fun. You just insert the pre-seeded pods in your garden, add water and the patented specially formulated liquid nutrients, and watch it grow!
AeroGardens are huge money savers! Fresh herbs, veggies, lettuces, and flowers can be crazy expensive at the grocery store, and if you don't use them right away, they end up in the trash. With AeroGarden, you always have the fresh ingredients you need and there's no waste – just cut off what you need, when you need it!
AeroGardens can grow plants 5X faster than soil! They come in many different sizes, designs, and finishes, so everyone can find their perfect garden. The gardens come with awesome features like built in LED grow lights so you can place your garden anywhere in your house, color touchscreens with water & plant food reminders, vacation mode for keeping plants thriving while you're away, and more.
AeroGarden has tons of seed pods kits to choose from, including Italian herbs, salsa gardens, fresh tea gardens, medicinal herbs, heirloom salad greens, tons of different tomatoes and peppers, beautiful flower mixes, custom seed kits and much more. Most plants germinate within 7-14 days, are ready for harvesting in 4-6 weeks, and will keep producing continuous harvests for up to 6 months or longer.
An AeroGarden would make a great Valentine's Day gift for the chef in your life!
Get 20% off Sitewide at AeroGarden using coupon BUDDY20. AeroGardens come with a 30-day no questions asked, money back guarantee. Shipping is Free on orders of $50 or more.
AeroGarden uses proven and patented nutrients that contain no harmful pesticides, herbicides, or other "funny" stuff. Their nutrients are made from mineral salts that provide iron, calcium, magnesium, and other vitamins in exactly the right amounts for your plants, derived from sources that ensure high levels of consistency and purity. Their seeds are sourced from large and small vendors from around the world. Many are heirloom seeds, organic sources are chosen when available, and GMO seeds are never used.
2