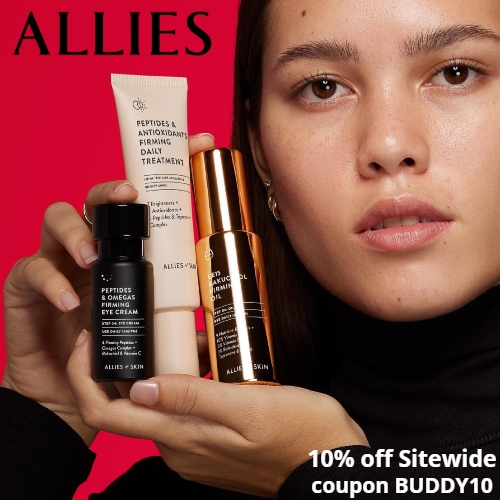 Allies of Skin is a customer-first, people-powered beauty brand. They believe people should feel empowered in their own skin and that taking care of yourself, and your skin, should be effortless. Their highly concentrated, supercharged formulas are designed to help you achieve maximum results with minimum steps.
Their extensive product line includes cleansers, toners, serums, boosters, eye cream, lip balm, moisturizers, face oils, weekly treatments, and masks. They make it easy to find exactly what you need to treat aging skin, acne, fine lines, pigmentation, dull skin, pores, and post-laser care.
Their popular PSA line (Purposeful Skincare by Allies) includes wallet-friendly products that allow you to create an effective, customized skincare routine based on your individual needs. Every science-led formula is designed to serve a specific purpose, so there's something for everyone.
Get 10% off Sitewide at Allies of Skin using coupon BUDDY10. Orders over $75 ship Free. All products are backed by a 30-day money back satisfaction guarantee. Coupons cannot be applied to subscription orders.
3