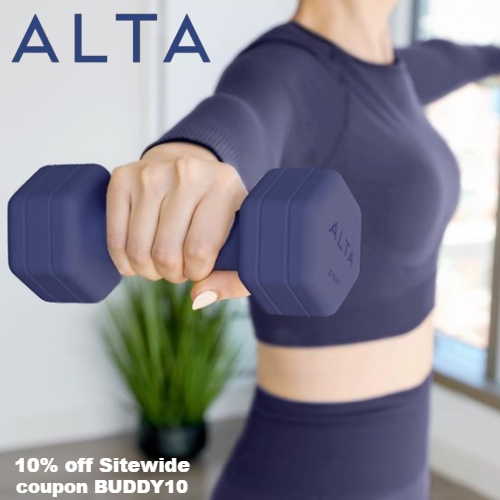 ALTA has completely redesigned traditional home workout equipment to provide stronger, softer, and more aesthetically pleasing gear.
Bid farewell to dumbbells that cause calluses and resistance bands that irritate your skin or break easily and start enjoying home workouts again!
ALTA's Soft-Touch Weights are coated in silicone that's been infused with silver, making them over 99% anti-bacterial. They feel heavenly feel in your hands. You'll notice the difference as soon as you hold them! They're an ideal upgrade for your barre workout, Pilates routine, or Peloton ride. They come in 5 colors and are available in 3-, 5-, 8-, and 10-lb options.
The Luxe Resistance Set is like having a whole gym in just one bag! Their unique ScrunchyKnit fabric design prevents the bands from snapping and rubbing on your skin. Each set includes 3 resistance bands, 2 handles, 2 ankle straps, 1 soft door anchor, and a travel bag.
The Toning Mini Loops can be used in over 100 different ways to provide a full-body workout wherever you might be! Each set includes a light, medium, and heavy band.
ALTA's Sculpting Booty Band is made with super-soft fabric for extra comfort. A non-slip lining prevents the band from rolling, slipping, or pinching. They are available in 5 colors in light, medium, and heavy.
Get 10% off Sitewide at ALTA using coupon BUDDY10. Shipping is Free on orders over $75. All products are backed by a 30-day money back guarantee.
3