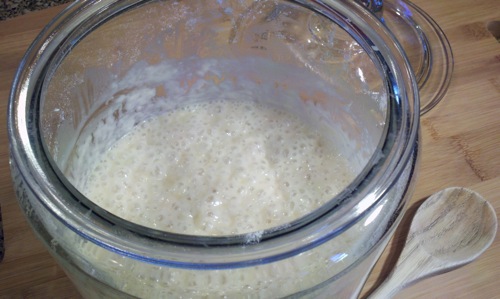 Many years ago, my grandmother gave me canister of gooey batter along with a recipe on how to make bread with it. The idea of something fermenting on my counter top didn't sound very appealing, but luckily, she also gave me a loaf of bread she had made herself using the starter. It was delicious! I was sold.
If you like to give homemade goodies for the holidays, consider this tasty creation. It truly is a gift that keeps on giving! If you don't have a glass jar with a lid on hand, this Anchor Hocking Jar would work perfectly!
This post contains affiliate links. See my disclosure policy for more details.
If you're going to give starter as a gift, tie a pretty bow around the jar, attach a bread recipe along with instructions on how to keep the starter going, whip up a loaf of bread, and you're set! Without tasting a finished product, most people might be a little put off my receiving a jar of goopy dough.
Ingredients
1 (.25 ounce) package active dry yeast
1/4 cup warm water (110 degrees F/45 degrees C)
3 cups all-purpose flour, divided
3 cups white sugar, divided
3 cups milk
Directions
In a small bowl, dissolve yeast in water. Let stand 10 minutes. In a 2 quart container glass, plastic or ceramic container, combine 1 cup flour and 1 cup sugar. Mix thoroughly or flour will lump when milk is added. Slowly stir in 1 cup milk and dissolved yeast mixture. Cover loosely and let stand until bubbly. Consider this day 1 of the 10 day cycle. Leave loosely covered at room temperature.
On days 2 thru 4; stir starter with a spoon. Day 5; stir in 1 cup flour, 1 cup sugar and 1 cup milk. Days 6 thru 9; stir only.
Day 10; stir in 1 cup flour, 1 cup sugar and 1 cup milk. Remove 1 cup to make your first bread, give 2 cups to friends along with this recipe, and your favorite Amish Bread recipe. Store the remaining 1 cup starter in a container in the refrigerator, or begin the 10 day process over again (beginning with step 2).
Once your starter is ready for baking (on day 10), try out one of these recipes. This one most resembles the recipe my grandmother gave me.
Sign up for my email newsletter to get recipes like this delivered to your inbox!
2