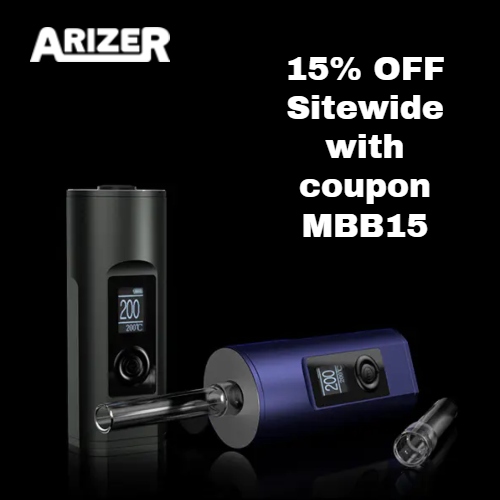 For over 15 years, Arizer has been the go-to brand for multi-purpose dry herb vaporizers. Combining quality and simplicity, their progressive designs have continued to set the bar and raise industry standards. Their extensive line of vaporizers includes both portable and desktop devices.
Portable line –
Air MAX – Experience the latest innovations with new rapid-heating ceramic technology, upgraded custom session settings, automatic display inversion, dark mode, and more.
Solo II – Arizer's most powerful portable, it heats up quickly and has a whopping 3-hour battery life, a use-while-charging feature.
ArGo – Designed with mobility in mind, this vaporizer features the best Arizer has to offer, all in a discreet palm-sized package.
Air SE – Provides big performance in a small package. Perfect for beginners and budget-conscious consumers, it provides everything Arizer is known for in a slimmed down economical package.
Desktop line –
XQ2 – This dry herb vaporizer features an unparalleled multi-purpose convection heater offering an all-in-one aromatherapy system, collection bag/balloon system, and more.
Extreme Q – The original hybrid desktop vaporizer, the Extreme Q features a multi-purpose heater, a fast heating ceramic element, a quiet 3-speed fan, remote control, and more.
V-Tower – An economical choice to get the most out of your dry herb, it uses the 360 degree Whip System and Cyclone Bowl™ to effectively vaporize.
Not sure which device is right for you? You can easily compare their vaporizers here to find the one that includes the features you want most.
Get 15% off Sitewide at Arizer using coupon MBB15. Arizer vaporizers are backed by a lifetime warranty on the heating element and a limited 3-year warranty covering defects in materials or workmanship.
2