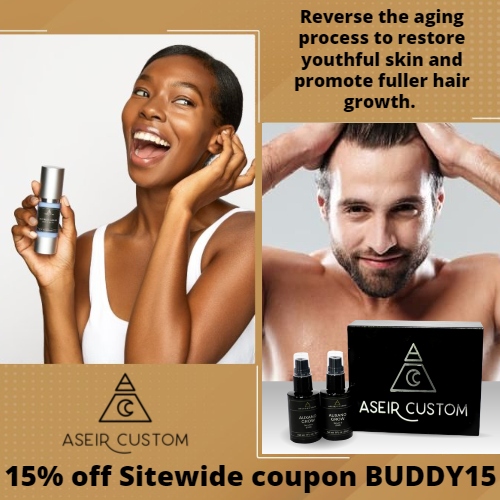 Aseir Custom offers powerful cosmeceutical products that are designed to reverse the aging process by restoring youthful skin and promoting fuller hair growth.
Utilizing the power of peptides and developed by world leaders in biohacking and biochemical engineering, Aseir Custom revolutionary formulas are backed by countless clinical studies and provide proven results. Their formulas not only reverse the aging process on the outside, but also help the body on the inside for total skin and hair rejuvenation. All products are made in the U.S.A.
Their product line includes:
Auxano Grow V2 Hair Growth Formula – This formula utilizes both Copper Peptide GHK-Cu and Carbon 60 (C-60) biomolecules that work together to reverse hair loss and promote new growth for fuller and thicker hair. Both agents in combination offer a synergistic approach to hair regrowth, while stopping hair loss and shedding due to age and or genetic predisposition.
Royal Blue Serum – Their fresh, instantly absorbing Royal Blue Serum keeps your pores clear and your skin glowing. Copper Peptide GHK-Cu has been shown to tighten, firm and improve skin elasticity, while reducing fine lines and wrinkles in men and women.
Sky Blue Cream – This silky-smooth deep moisturizing cream helps to heal dry, damaged, and aging skin with noticeably fast results.
Auxano Brow & Lash – Use the healing power of peptides to revitalize your eyelashes and eyebrows. Reverse years of damage from plucking, tweezing, fillers, and mascara and get renewed, healthy, full lashes and brows.
Get 15% off Sitewide at Aseir Custom using coupon BUDDY15.
Copper peptide GHK-Cu is a small protein fragment produced naturally by our bodies to support collagen and elastin production. It is critical for healthy, vibrant, youthful-looking skin. GHK-Cu helps the body recover faster and more completely from scrapes, cuts, and other injuries. Multiple studies have shown copper peptide GHK-Cu plays a critical role in preventing or slowing many degenerative diseases.
2