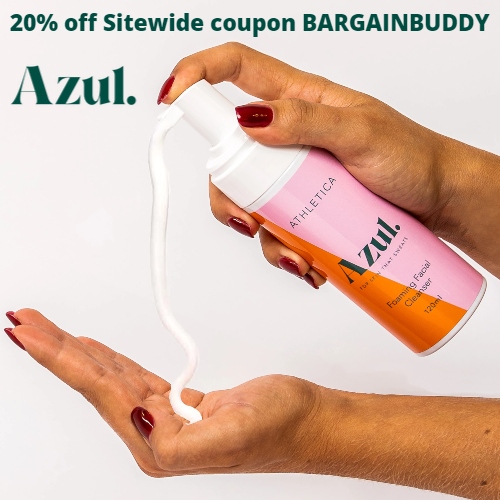 Physical activity if great for your body, but not always so great for your skin. When sweat dries on your skin, it goes back into your pores, taking all the toxins with it, which can cause redness, irritation, and breakouts.
That's where Azul. Skin comes in! Azul. Skin offers premium cleanser that was designed for athletes, formulated by science, and tested & approved by real women.
Azul. Athletica is a foaming cleanser made with 100% natural ingredients that is designed to reduce acne, detoxify skin, combat inflammation, and reduce sensitivity post-workout by gently exfoliating and getting rid of excess oils. It also slows the signs of aging, prevents cell breakdown, refines pores, and hydrates.
Azul. Skin also offers handy travel bags to carry your skincare essentials with you wherever you go and reusable microfiber cleansing pads that are made of non-toxic, recycled material. They instantly remove makeup and/or sweat and can replace up to 500 single-use makeup wipes!
Get 20% off Sitewide at Azul. Skin using coupon BARGAINBUDDY. Orders over $40 to Australia and New Zealand ship Free.
1