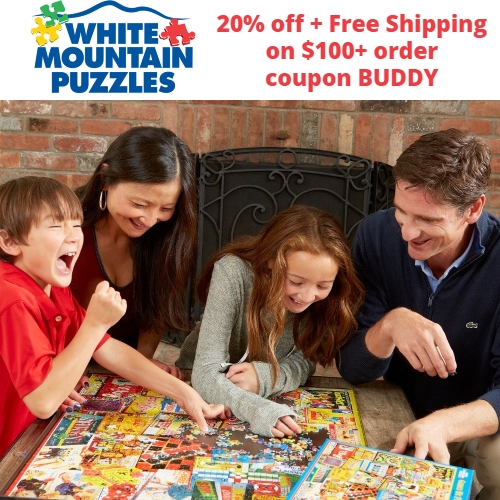 For over 30 years, White Mountain Puzzles has been producing, fun, unique, fully interlocking jigsaw puzzles of the finest quality. They have tons of great themes to choose from, including nostalgic/vintage, pop culture, sports, historical, animals, famous places, Christmas, landscapes, and more. With over 400 puzzles for all ages ranging from 100 pieces to 1,000 pieces, White Mountain Puzzles has a puzzle for everyone!
Get 20% off and Free Shipping on your order of $100 or more at White Mountain Puzzles using coupon BUDDY.
Every White Mountain Puzzle comes with a happiness guarantee. If you are not happy with your puzzle experience, they will replace it for Free!
All White Mountain Puzzles are proudly made in America!
15