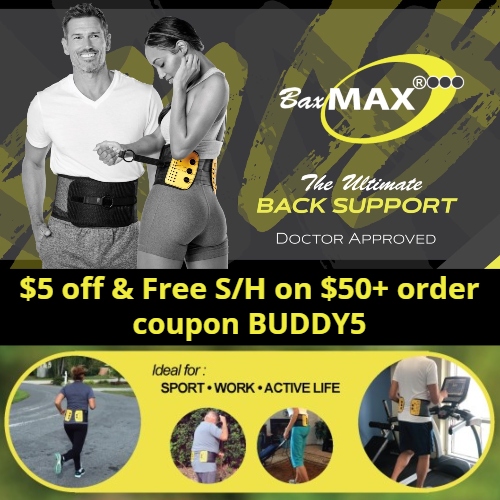 BaxMax is one of the lightest, strongest, and most comfortable back supports on the market. It provides immediate temporary relief for most chronic & acute lower back pain. Its patented 5:1 compound pulley system enables the BaxMax back support to get 5X tighter than elastic braces, which means 5X the support!
BaxMax is great as a daily support for work & exercise and for people with lumbar issues such as bulged or herniated discs, sciatica, compressed disc, and lordosis. It is used in clinics worldwide to supplement decompression therapy programs and is one of the quickest and easiest ways to offer instant relief for most back pain sufferers.
BaxMax is made of a thin & porous nylon fabric that's stitched with Kevlar, making it extremely durable while also being breathable & comfortable. Added bonus – it doesn't stretch out like elastic braces can, so you can wear it all day without having to readjust or worry about getting hot, sweaty, and uncomfortable. The 5:1 compound pulley makes it easy to tighten and loosen and the lightweight design makes it versatile enough to wear under or over your clothing.
BaxMax also offers anterior stay inserts for additional abdominal support, 5″ extenders (if you need a size larger than XXL), reusable hot/cold therapy gel packs, and the IsoStrength Lite – a stretching and strengthening device that helps relieve low back pain and lower the chance of injury.
Get $5 off your order of $50 or more at BaxMax using coupon BUDDY5. Orders over $20 currently ship Free. BaxMax comes with a 30-day money back guarantee and a 5-year warranty.
1