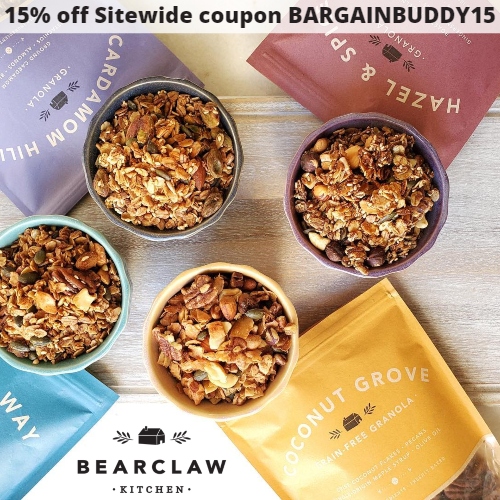 Founded by a pastry chef with years of experience, Bearclaw Kitchen offers specialty granola and snacks to fuel your day in a healthy way.
Their granola is made with only the highest quality ingredients. They roast whole nuts & organic oats and combine them with things like unfiltered wildflower honey and organic single-origin maple syrup to make their delicious signature flavors.
It's perfect on it's own as sweet treat or as a topping for things like yogurt & ice cream for a wholesome breakfast or a scrumptious dessert. It comes in 5 great flavors – Honey Run, Hazel & Spice, Maple Way, Cardamom Hill, and Grain-Free Coconut Grove.
Their other snack items include trail mix, organic maple syrup, a variety of small batch jams, Maple Way pancake mix, Hazel & Spice granola butter that's great on toast or as healthier ice cream topping, and hearty granola bars that are perfect for a quick breakfast or afternoon snack.
Get 15% off Sitewide at Bearclaw Kitchen using coupon BARGAINBUDDY15. Shipping is Free on orders of $40 or more. All products come with a 15-day satisfaction guarantee. Coupon is not valid on subscription orders.
4