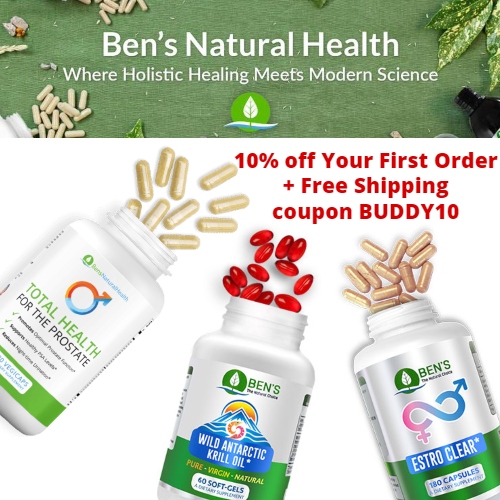 Ben's Natural Health is where holistic healing meets modern science with all-natural, high-quality and clinically proven supplements. Ben's Natural Health was formed in 2000 when founder Ben Ong faced a health crisis and wanted a total solution that was effective, natural, side effect free, and backed by doctors, scientists, nutritionists and naturopaths. Since such a high quality supplement didn't exist, he created one!
Ben brought together a team of naturopaths, nutritionists, and medical researchers to help him create real, side effect-free solutions to serious metabolic health conditions. Their first supplement was Total Health for the Prostate, which is designed to lower PSA, provide symptomatic relief, and address Benign Prostatic Hyperplasia. To date, it has helped over 1 million men get rid of their symptoms, lower their PSA, restore their health and take back control of their lives!
With the success of their prostate supplement, the team realized they could take this philosophy and help many more people with other medical conditions. So they got to work, making clinical grade nutritional supplements that are backed by scientific evidence – Real side effect-free solutions for serious health conditions!
Today, Ben's Natural Health operates internationally and has expanded to offer a full range of clinical supplements for prostate health, general health, anti-aging, type 2 diabetes, and sexual health.
Get 10% off your first order at Ben's Natural Health using coupon BUDDY10. All orders ship Free – No minimum purchase required.
For the best deal, consider a multi-pack and/or subscription. You can save over 50% per bottle on multi-packs and subscriptions give you an additional 5% off! Both come with a 90-day money back guarantee and you can pause or cancel your subscription at anytime. Guarantee is for unopened bottles only.
Ben's Natural Health also offers a rewards program that allows you to earn points to save on future purchases.
12